Unlike "jobs," careers are made. In a word, to succeed, we need each other. That is our motivation!

Once our military careers are over, what then? A primary Diversity Leadership Council goal is to support alumni looking for career opportunities and help employers connect with minority professionals. The ranks of such companies are growing. Private sector companies know we are well trained leaders with a variety of subject matter expertise and would love to have us in their ranks. If only they knew where to find us. Many of our peers are already in those firms, and can play a role as mentors (within their own firms or others) bringing about a win-win situation for all.



Recent Career Postings

Alumni

MLT's MBA Preparation Program partners with top business schools and corporations to prepare African-American, Hispanic-American and Native Americans for admission to the nation's premier business schools.
Please click on the logo for more information.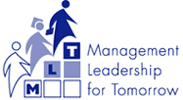 Developing minority leaders for
business school and beyond